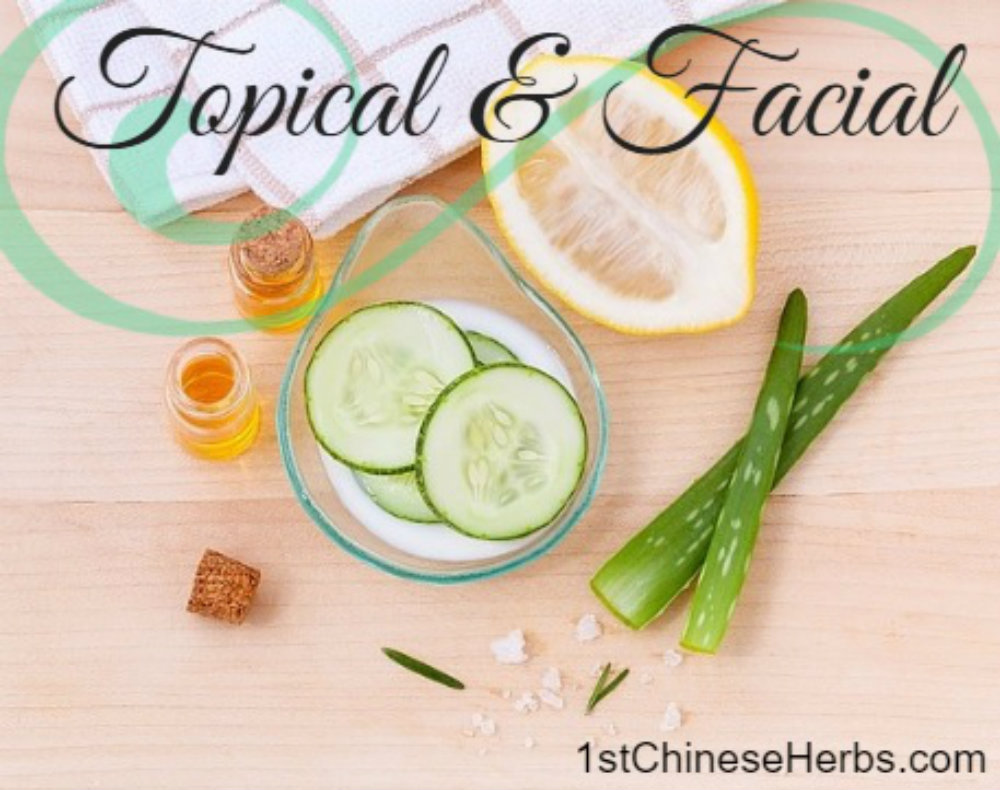 Topical and facial herbs have been used for thousands of years to promote natural healing, treat skin problems, and enhance the appearance of the skin. Skin care can vary widely from person to person as there are different needs dependent on age, genetics, environment, diet, and climate. Be sure you consult with your naturopathic doctor, physician, or herbalist before starting a new herbal regimen.
Topical and facial herbs are, by definition, meant for external use. There are a variety of ways to use topical and facial herbs, including salves & balms, poultices & compresses, and bath & foot bath. Try a variety and see which ones work best for you and your skin!


Common Topical & Facial Herbs
Below is a chart of some of the more commonly used topical and facial herbs. You might even have some of these herbs available in your kitchen!
Herb
Properties

Basil

Astringent, tonic, cleanser, antibacterial, anti-inflammatory.

Burdock

Stimulates blood flow, eliminates toxins, anti-inflammatory, anti-bacterial.

Calendula

Cell repair, soothing, dry skin repair, calmative.

Chamomile

Healing, tonic, soothing, calmative, anti-inflammatory.

Chickweed

Anti-inflammatory, moisturizer.

Cnidium

Eczema, skin rashes, itchy skin.

Dandelion

Vitamins, clears skin.

Elderflowers

Astringent, for dry skin.

Eucalyptus

Antispectic, antiviral, expectorant.

Fennel

Sun damage, wrinkles, vitamins.

Green Tea

Antioxidants, astringent, skin purifier.

Hibiscus

Emollient, skin softener, antioxidant.

Honeysuckle

Antibacterial, circulatory, healing.

Jasmine

Skin softening, for dry skin.

Juniper Berries

Anti-inflammatory, anti-bacterial, antiseptic, for oily skin.

Lavender

Anti-inflammatory, anti-bacterial, antifungal, antiseptic, for all skin type.

Lemon Balm

Astringent, anti-bacterial, refreshes the skin.

Lemongrass

Astringent, tonic, antifungal, anti-bacterial.

Licorice Root

Anti-inflammatory, skin soother.

Peppermint

Anti-inflammatory, anti-bacterial, astringent.

R

ose Petals

Healing, anti-inflammatory, soothing.

Rosemary

Circulatory stimulant, toner, astringent.

Sage

Antioxidant, astringent, anti-bacterial.

Thyme

Antiseptic, anti-fungal, deep cleansing.

Yarrow

Astringent, healing, soothing.
Have a question? Fill out the form below: