We're so excited to have you as a customer!
As a first time buyer at 1st Chinese Herbs we would like to extend to you this special offer below! Which must be used at time of checkout, as it can not be applied once the order has been completed.
Please use the coupon code:
Z969E1Z6XJ9

This coupon must be used at time of checkout. It can not be applied once the order has been completed. This is due to how our shopping cart applies the coupon,
so please apply or the 1st Time Here discount will be lost.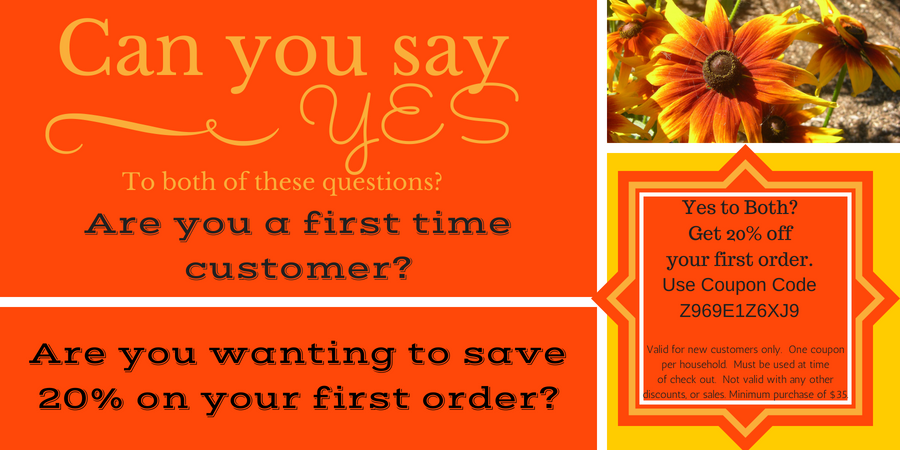 Coupon valid with orders of $35 or more. Coupon expires without notice.
Can not be combined with any other discounts.
At 1st Chinese Herbs, we strive to provide you with superior bulk herbs, teas and spices.
Our goal is your satisfaction!
The first time customer discount is valid for new customers only. One coupon per household. Must be used at time of check out, can not be used once the sale is finalized. Not valid with other discounts or sales.
--
The following is how we view your package being package and shipped to you in our minds.
First, we think:
Thank you for trusting 1stChineseHerbs with your business.

Thank you for ordering.

Thank you for being a truly valued customer.
Your order has been identified and carefully taken from our Chinese herbs shelves with sterilized, contamination-free gloves and placed onto a purified wisp of air while we selected the proper container to honor your order.
Our specialized team of over 10 US-based employees carefully inspected each item to make sure it is of the highest quality, meeting and exceeding all known purity tests.
Our world-renowned packing specialist, Anitra and others, selected a local artisan candle, specifically associated with your selected products to honor and celebrate your shipment. For your order, all our staff gathered and a respectful hush was honored by our exceptional staff as each of your items was carefully and thoughtfully placed into the finest gold-lined box that money can buy.
Once your package was sealed, all our employees gathered to celebrate. Chants and cheers could be heard for miles as our entire staff placed your package on a Ming Dynasty, imperial carrying throne and proceeded down the street to the post office. People in the neighborhood also stopped what they were doing and respectfully cheered the departure of your order, on its way to you, in our private 1stChineseHerbs.com jet on this very day.
In commemoration, we have placed your picture on our wall as "Customer of the Day." We're all exhilarated and can't wait for you to come back to 1stChineseHerbs again.
We trust you had a enjoyable time shopping at 1stChineseHerbs - we certainly enjoyed your visit.
Thank you, thank you, and thank you!
Sigh...
We miss you already. We'll be right here at 1stChineseHerbs patiently awaiting your return.
Your friends at 1stChineseHerbs.com
This is how we visualize your order being processed, handled, and expedited to you.