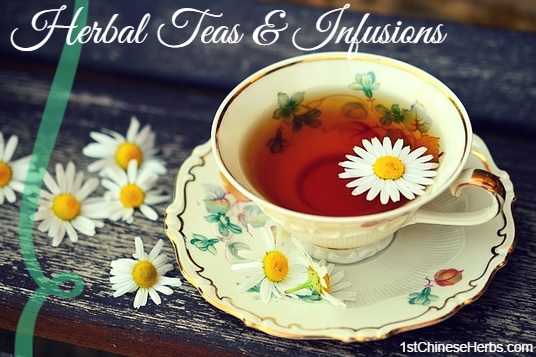 Herbal teas and infusions (sometimes called tisanes) can provide a variety of health benefits. Different types of teas have different properties like antioxidant, tonic, sedative, stimulant, and calmative. Herbal teas are one of the easiest, cheapest, and fastest ways to use herbs. Place herb into a reuseable teabag, use a tea ball strainer, or brew one huge pot. If you have further questions, use the contact form below to contact us.
Common Questions about Teas and Infusions
Below are some of the most commonly asked questions about teas and infusions. If your question is not answered, please contact us using the form at the bottom of the page.

What are the differences between teas and infusions?
Infusions are steeped much longer than normal teas and with an increased quantity of herbs. They are sort of like super-teas and are also quite easy to make. The quantity of minerals and herbs found in infusions can be many times greater than in normal teas.
When should I use an infusion instead of tea?
In general, people who are ill use infusions instead of teas in order to get extra herb content, vitamins, and minerals to beat their cold, flu, or other illness. However, there are many people drink infusions every day with few (if any) adverse effects.
How to Brew Herbal Teas
Check out our How to Brew a Flawless Cup of Tea page to see our suggestions on how to brew herbal teas.
How to Brew Infusions
Information coming soon!
References

Have a question? Fill out the form below: