Lycium Wolfberry Fruit
Goji Berries / Lycium Fruit Forms and Sizes are listed below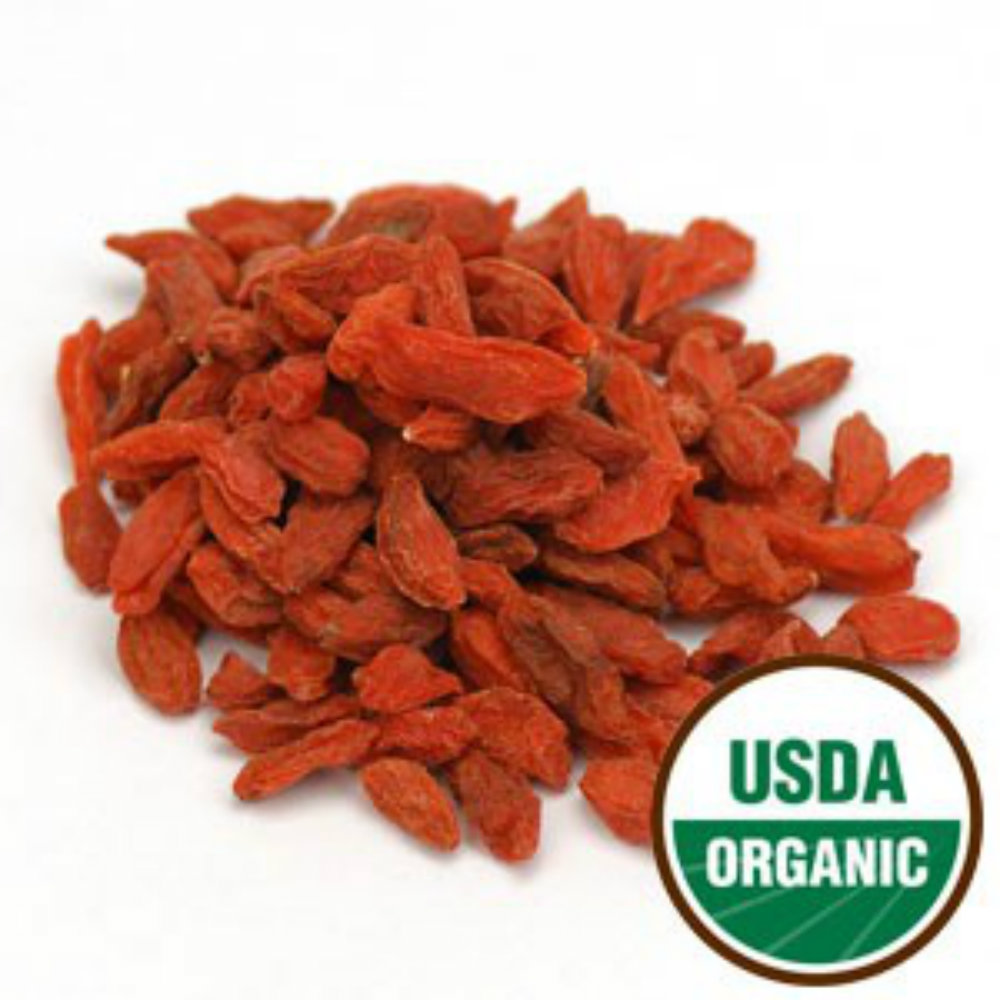 Properties
Sweet

Kidney

Liver

Lung

Alleviates sore back

Improves vision

Reduces joint pain

Anxiety

Antioxidant

Supports healthy blood sugar

Sexual Energy
Other Names
Wolfberries

Lycium barbarum

Fructus Lycii

Gogi Berry

Goji Berries

Christmas Berry

Desert thorn
Pin Yin Name
Gou Qi Zi

You Ji Gou Qi Zi
Caution / Drug Interaction
Do not use if pregnant or nursing

Do not use with spleen deficiency with dampness
Our products are free from: colors, fillers, additives, and sulfites.
How to Use Bulk Herbs (Powder, Cut, Capsules, Liquid, or Concentrated Form)
The following forms are the best ways to use the little red berry known as Lycium Fruit. Click the icons to learn more about each form.
With so many different ways to use bulk herbs, it is easy to get confused. In order to understand how to use the different parts of the plant, please see our informational chart below. We also have several helpful pages if you need additional information. Check out our How to Use Bulk Herbs page to see how to use herbs correctly.
About Goji Berries
Lycium Fruit is a popular superfood! They can be eaten alone or with food (like breakfast cereal), baked into muffins or cookies, or simpler yet, make a smoothie from the berries. In addition the red small berries may be prepared medicinally as a decoction or liquid extract-tincture. Many recipes on line have goji berries added to soups or to congee.
The dried fruits are whole and measure about 1/2 inches long. They are medium shades of red. The colors vary due to harvesting time, weather conditions, drying conditions and age of berry. They are wrinkly and are not as soft as raisins. The botanical name is Lycium Barbarum; Fructus.
Chemical Components
Carotene, thiamine, riboflavine, nicotinic acid, ascoric acid, beta-sitosterol, linoleic acid, zeaxanthin, betaine, physalien, cryptoxanthin, atropine, hyoscyamine, scopoletin, trace minerals and amino acids.
The fruit of L. chinensis contains 0.797-1.18% of betaine. From the volatile fraction of the fruit, two sesquiterpenes, dhydro-alpha-cyperone and solavetivone, were isolated. Furthermore, 36 compounds were detected by GC-MS. Polyene alcohols zeaxanthine and physalien, as well as cryptoxanthine were isolated from the fruit. Beta-Sitosterol and melissic acid [CH3-(CH2) 28-COOH] were also found in the fruit. More recently, two cerebrosides were isolated from the fruit and identified as 1-O-beta-D-glucopranosyl-(2S, 3R, 4E, 8Z)-2-N-palmotoyloctadecasphinga-4, 8-dienine and 1-O-beta-D-glucopranosyl-(2S, 3R, 4E, 8Z)-2-N-(2¡¯-hydroxypamoitoyl)octadecasphinga-4, 8-dienine, respectively.
Chemical examination of the fruit of L. barbarum revealed that 100g of fruit contained 3.1g proteins, 1.9g carbohydrates, 1.6g fiber, 22.5mg calcium, 56mg phosphorus, 1.3mg iron, 19.6mg carotene, 0.08mg thiamine, 0.14mg riboflavin, 0.67mg nicotinic acid and 42.6mg ascorbic acid. The fruit also contains polysaccharides (LBP) with immuno-stimulating activities. It was reported that the seed of some solanaceous plants, including L. chinensis, contains a number of steroid compounds. Cycloartanol, cycloartenol and 24-methypene-cycloartanol were isolated as major 4,4-dimethypsterol compounds and gramisterol, citrostadienol, lophenol, cycloeucalenol, norcycloartenol and obtusifoliol as 4-desmethylsterols.
Good Manufacturing Practices (GMPs) are guidelines that govern the manufacturing process of a product to ensure that the quality and safety of the product is consistent.
---