Summer is a perfect time for a tall cold drink. Whether you enjoy an iced tea, iced coffee, lemonade or a cocktail you can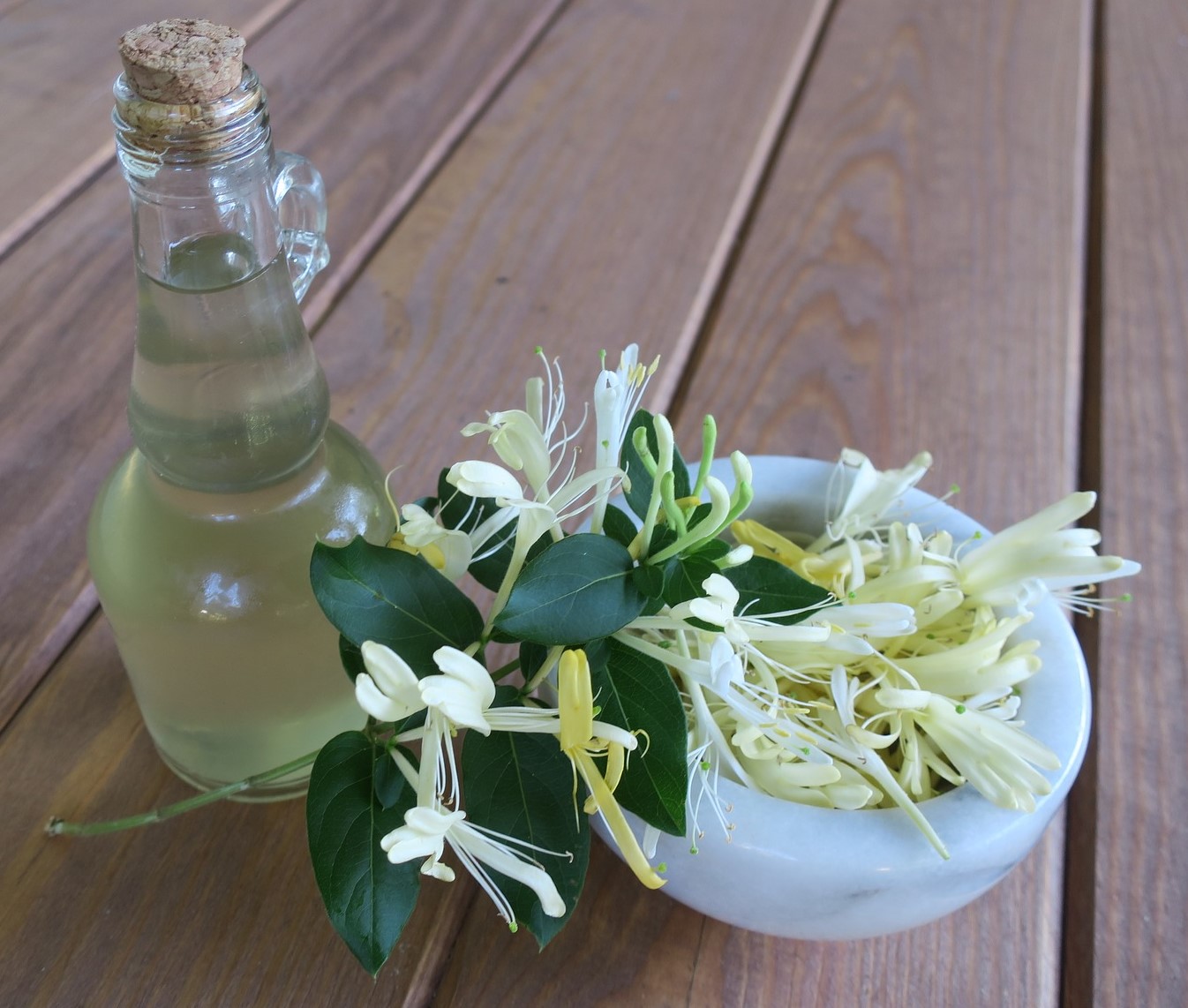 kick up the flavors and health benefits by adding an herbal simple sugar. Simple syrups are easy to make and can be used in a variety of ways. Add them to your favorite beverages, fruit salads, over ice cream, brush them in between layers of cake or add to tonic or soda water for a refreshing drink.
You can choose to use any herbs you like in simple syrups. You can stick with the usual culinary herbs or expand your journey into medicinal herbs. All provide you with vitamins, minerals, health benefits and flavor. A simple syrup is 1 part water and 1 part sugar that is placed in a pan and brought to a boil for 1 minute, cooled and then stored in the refrigerator. Simple syrup is typically used in recipes, cocktails and other beverages. Adding flavor to the syrups through the addition of herbs takes simple syrup to a new level!
Any form of herb can be used to infuse simple syrups. Fresh, Cut and dried or powdered herbs all work to impart flavor, nutrition and health benefits to the syrup. Preparation will vary depending on what form you use. You can even mix and match!
There are a few general guidelines for preparing and storing the simple syrups.

Choose organic herbs when possible, especially if using fresh herbs.

Store the syrup in a clean and sterilize glass jar with a lid, for example a mason jar or jar with a stopper.

Label and date the syrup. Simple syrup will last about 1 month in the refrigerator.

All botanical pieces must be strained from the syrup to avoid mold and bacterial growth.

Do not use sugar substitutes or corn syrup. You will not get the same results as natural sugars.

Keep in mind how strong the herb flavor is when deciding on the amount of an herb to use. Some herb flavors such as rosemary or lavender are strong and can easily over power other herbs or make a very strong flavored syrup. Choose what is best for your own personal preference.
Making Herb Infused Simple Syrup
Equipment
Medium sauce pan with lid

Fine mesh sieve or fine cheesecloth

Sterile glass jar with lid

Labels
Ingredients
1 cup Water

1 cup Sugar – use any natural sugar of your choice or honey. Be aware honey will also add flavor to the syrup

Herbs of choice – You can make a single herb syrup or herbal combination to suit your needs.
Directions
1. Combine the sugar and water in the sauce pan. Gently stir to partially dissolve.
For Fresh Herbs
Use ¼ - 1 cup of desired herbs depending on how much flavor you want. You may want to use smaller amounts of herbs that have over powering flavors such as rosemary and lavender.

Wash and clean herbs thoroughly

Add herbs to water & sugar mixture.

Bring to a boil, reduce heat and simmer 1 minute.

Remove pan from heat and let steep for 30 minutes.
For Dried Herbs
1 – 3 Tbsp of desired herbs.

Add hard herbs like roots, stems, barks and seeds to water & sugar mixture.

Bring to a boil, reduce heat to low. Cover with lid and simmer for 30 minutes.

If using dried leaves or flowers, bring the water & sugar mixture to a boil, add the herbs and reduce heat to a simmer. Simmer 2 – 3 minutes.

Remove from heat and let steep for 1 hour.
For Herb Powders
1 ½ - 2 Tbsp. Desired Herbs

Add herb powder to water & sugar mixture

Bring to a boil, reduce heat and simmer for 5 minutes.

Remove from heat and let cool to room temperature.
3. Strain liquid through metal sieve or 2 layers of fine cheesecloth
4. Pour liquid into prepared glass jar and seal
5. Label & Date
6. Store in refrigerator for up to 1 month.
7. Enjoy!
Tip: For an extra nutritional kick add a few drops of your favorite tincture!
If making simple syrups with fresh fruit is for you, great! You can still add in the herbs while your fruit is cooking. To make a fresh fruit syrup add 1 cup of sugar and a ½ cup of water to the pan. The fruit will add liquid as it cooks. Add 1 -1 ½ cups cleaned and cut fruit of your choice. Bring to a boil on medium high heat then reduce heat to low and simmer until liquid thickens, about 10 – 15 minutes. While simmering use a potato masher to mash the fruit. Add any herbs you want to use during the simmering time according to their hardness. Once desired thickness is reached, remove from heat and let cool 30 minutes. Smash mixture through a fine mesh sieve and bottle.
Need some inspiration? Below are a few suggestions of herbs to start with. Have fun exploring the possibilities of using new herbs as well as your favorites!
Ashwagandha, Astragalus root

Basil

Cardamom, Chamomile, Chrysanthemums, Chili Peppers, Cinnamon, Cilantro, Cloves

Echinacea, Elderberries, Elecampane, Eleuthero root

Fenugreek Seeds

Ginger, Goji berries

Hibiscus Flowers

Lavender. Lemon Grass, Lemon Verbena, Licorice root

Mint, Moringa

Orange Peel

Rosehips, Rosemary

Sage, Star Anise

Thyme, Teas
References: http://dish.allrecipes.com/how-to-make-herbal-simple-syrups/, https://selfproclaimedfoodie.com/make-simple-syrup/, http://cms.herbalgram.org/heg/volume7/05May/TCMcocktails.html?t=1272991508&ts=1560445945&signature=769c566eca73279ca0e2d1bfb6902b65, https://www.foodandwine.com/recipes/chinese-five-spice-syrup-cocktails-2011, https://pixabay.com/photos/honeysuckle-simple-syrup-edible-3724499/, https://pixabay.com/photos/elder-flowers-raspberries-syrup-2367034/