Turkey Tail Mushroom
Review Forms and Sizes Below
Properties
Lung

Immune Builder

Tonic

Liver

Cell Defense
Pin Yin Name
Other Names
About Turkey Tail Mushrooms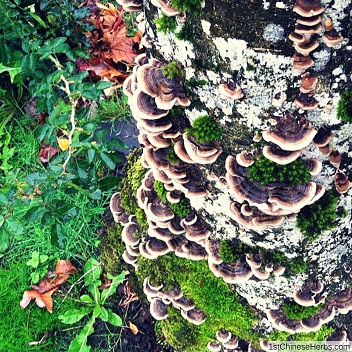 Turkey tail mushrooms make their home on rotting pieces of wood like fallen branches, logs, and sticks. They are some of the most common mushrooms on the planet and many people are unaware that they have many medicinal properties. Traditional medicine has used these mushrooms for thousands of years for a variety of ailments.
Some of the compounds found in turkey tail mushrooms include 4-isobutoxyphenyl palmitate, cerebroside, betulinic acid, ergosterol, ergosterol peroxide, trilinolein, and betuline (Habibi et. al, 2015). Due to the results of a study done by the National Institutes of Health (NIH), turkey tail mushrooms are now recommended for a variety of ailments.

Cautions
Do not use if pregnant or breastfeeding.
How to Use Bulk Herbs - You can use turkey tail mushrooms in the following forms:
References
Desaulniers, D. (2015). Turkey Tail improves digestive tract. Natural Health 365. Retrieved from <

http://www.naturalhealth365.com/paul-stamets-digestive-tract-1366.html

>.

Habibi E, Sadat-Ebrahimi SE, Mousazadeh SA, Amanzadeh Y. Mycochemical Investigation of the Turkey Tail Medicinal Mushroom Trametes versicolor (Higher Basidiomycetes): A Potential Application of the Isolated Compounds in Documented Pharmacological Studies. Int J Med Mushrooms. 2015;17(3):255-65. PubMed PMID: 25954909.

Nakazato H, et al. Efficacy of immunochemotherapy as adjuvant treatment after curative resection of gastric cancer. Study Group of Immunochemotherapy with PSK for Gastric Cancer. Lancet 1994; 343(8906): 1122-6.

Stamets, P. "Turkey Tail Mushrooms Help Immune System Fight Cancer." The Huffington Post, June 2012. Retrieved from <

http://www.huffingtonpost.com/paul-stamets/mushrooms-cancer_b_1560691.html

>.
---